Specify settings for WAV format to convert with help of Protected Music Converter.
When you select WAV output format and press Custom profile... button in Output format section on main program window, you will get dialog window shown below. By changing various WAV format settings in this dialog you can create your custom profile, which can be saved and used to set up conversions in Batch List later.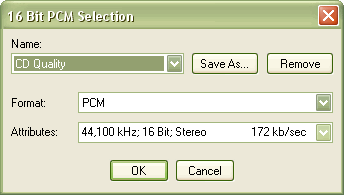 Format
Here you can choose codec to encode WAV content. List of codecs can vary from one Windows copy to another. To set up uncompressed WAV output format choose PCM here.
Attributes.
Using this drop-down menu you can choose one of the sets of options available for specified format, this set consist of sample rate value, number of bits per second, channel mode and bit rate.
Name
Here you can write down name for your new profile. Use Save As... button to save profile for future use and Remove button to remove it from the list.

Related Topics: OGG Vorbis custom profile WMA custom profile MP3 custom profile