Specify settings for OGG format to convert with help of Protected Music Converter.
When you select OGG output format and press Custom profile... button in Output format section on main program window, you will get dialog window shown below. By changing various OGG format settings in this dialog you can create your custom profile, which can be saved and used to set up conversions in Batch List later.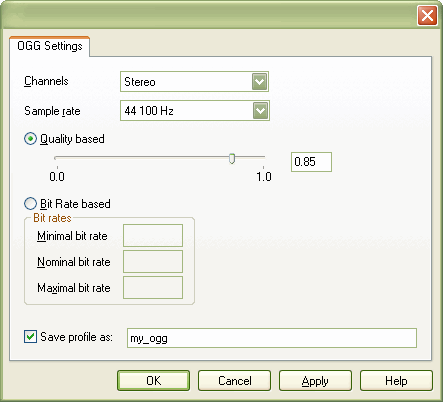 Number of channels.
This drop-down menu indicates the number of channels which are available in OGG Vorbis format.You can choose from one from the following options: Mono, 2 Channels, 5.1 Channels, 7.1 Channels.
Samplerate.
By changing this parameter you can set appropriate sample rate for output MP3 file. You can choose from 32000Hz, 44100Hz or 48000Hz (MPEG-I standard sample frequencies)
Encoding method
There are two mutually exclusive options to set up Variable Bit Rate (VBR) quality for OGG format:
Quality based.

You can set abstract quality value with these controls, from 0 to 1.0. Greater value means greater quality.OGG Vorbis is natively a VBR codec, a user requests a given constant quality and the encoder keeps the encoding quality constant while allowing the bitrate to vary. Quality mode will always produce the most consistent encoding results as well as the highest quality for the amount of bits used.

Bit rate based.

Here you can set nominal bit rate for encoding and upper and lower bit rate boundaries (Maximal bit rate and Minimal bit rate correspondingly). Bit rate based method should only be used when there is a requirement to limit bit rate in some way, otherwise use quality based method.
Save profile as:
Here you can write down name for your new profile. When you are done with this dialog, press "OK" button and this set of options will be saved with given name for future use.

Related Topics: WAV custom profile WMA custom profile MP3 custom profile