Specify settings for MP3 format to convert with help of Protected Music Converter.
When you select MP3 output format and press Custom profile... button in Output format section on main program window, you will get dialog window shown below. By changing various MP3 format settings in this dialog you can create your custom profile, which can be saved and used to set up conversions in Batch List later.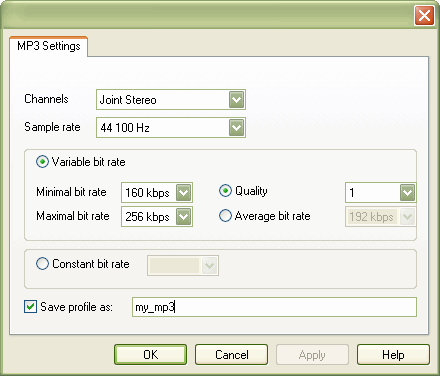 Sample rate
By changing this parameter you can set appropriate sample rate for output MP3 file. You can choose from 32000Hz, 44100Hz or 48000Hz (MPEG-I standard sample frequencies)
Channel mode.
With this drop-down menu you can choose one of the next channels modes of encoding:
Stereo

In this mode, the encoder makes no use of potentially existing correlations between the two input channels. It can, however, negotiate the bit demand between both channel, i.e. give one channel more bits if the other contains silence or needs less bits because of a lower complexity.

Joint Stereo

In this mode, the encoder will make use of correlation between both channels. The signal will be matrixed into a sum ("mid"), computed by L+R, and difference ("side") signal, computed by L-R, and more bits are allocated to the mid channel. This will effectively increase the bandwidth if the signal does not have too much stereo separation, thus giving a significant gain in encoding quality. In joint stereo, the encoder can select between Left/Right and Mid/Side representation on a frame basis.

Dual Channel

In this mode, the 2 channels will be totally independently encoded. Each channel will have exactly half of the bitrate. This mode is designed for applications like dual languages encoding (ex: English in one channel and French in the other). Using this encoding mode for regular stereo files will result in a lower quality encoding.

Mono

The input will be encoded as a mono signal. If it was a stereo signal, it will be downsampled to mono. The downmix is calculated as the sum of the left and right channel, attenuated by 6 dB.
Bit rate mode
You can set either Variable Bit Rate (VBR) or Constant Bit Rate (CBR) encoding modes:
Variable Bit Rate.

You can select here appropriate bitrates for encoding and set VBR quality.Minimal bit rate and Maximal bit rate determine variable bit rate bounds, and you have two choices to determine encoding quality either by setting Average bit rate (ABR) or set a special "Quality" parameter. Those methods are mutually exclusive. "Quality" parameter defines quality level from 1 to 10, where 1 is slowest with best quality and 10 is fastest with poor quality, ABR sets average estimated bitrate for output file.

Constant bit Rate.

Only parameter you can choose for this encoding mode is bitrate of output file, it's supposed to be constant for all the file.
Save profile as:
Here you can write down name for your new profile. When you are done with this dialog, press "OK" button and this set of options will be saved with given name for future use.

Related Topics: OGG Vorbis custom profile WAV custom profile WMA custom profile