Output settings of All To MP3 Converter.
Settings Dialog
This dialog is used for adjusting general settings of All to MP3 Converter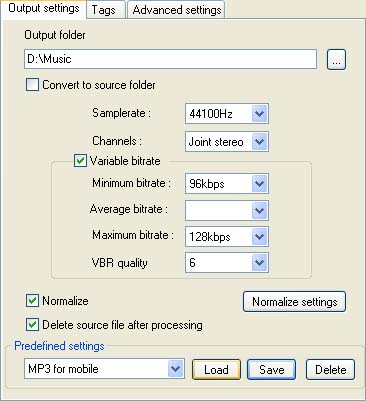 Output folder
Use this option to adjust the directory where the converted files will be placed to.
If you select the Convert to the source folder option, files will be converted to the same directory as the original files. Otherwise you have to indicate this directory manually or press the

button and select the required directory in the appeared dialog.
Samplerate
With the help of this parameter you can choose appropriate samplerate of output MP3 file. You can choose from 32000Hz, 44100Hz or 48000Hz.The default value of this parameter is 44100Hz.
Channels mode.
With the help of this item you can choose one of the next channels modes of encoding - Mono, Stereo and Joint Stereo
Stereo - stereo mode means stereophonic sound.

Joint Stereo - in this mode, the encoder will make use of a correlation between both channels. The signal will be matrixed into signal's sum ("mid") and difference ("side"). For quasi-mono signals, this will give a significant gain in encoding quality. This mode does not destroy phase information like IS stereo that may be used by other encoders and thus can be used to encode DOLBY ProLogic surround signals.

Mono - mono mode means monophonic sound. File encoded with Mono mode is two times less than one encoded with Stereo mode.

Dual Channel(Forced Joint Stereo) - this mode will force MS joint stereo on all frames. It's slightly faster than joint stereo, but it should be used only if you are sure that every frame of the input file has every little stereo separation.
Variable Bitrate.
You can enable VBR mode by checking Variable Bitrate check box. You can select here appropriate bitrates for encoding and set VBR quality. Minimal and Maximal Bitrates determine variable bitrate bounds, and Average Bitrate determine averaged bitrate in output file.

Note: The higher bitrate you select - the better quality of sound you get. High bitrate also mean large size of an encoded file.
VBR quality sets quality level from 0 to 9, where 0 is the slowest with best quality and 9 is the fastest with poor quality. If VBR mode is disabled,a Minimal Bitrate value is used for encoding.
Normalization
If you need to normalize your song (i.e. to make your song with equal sound level) enable the Normalize option. To set up the normalize settings press Normalize settings button.