Converting to MP3
Use All to MP3 Converter for conversion of wide audio and video formats to MP3 format. Read about it and about setting up conversion options.
When you start Convert to MP3 command from Windows Explorer context menu you will see the next dialog: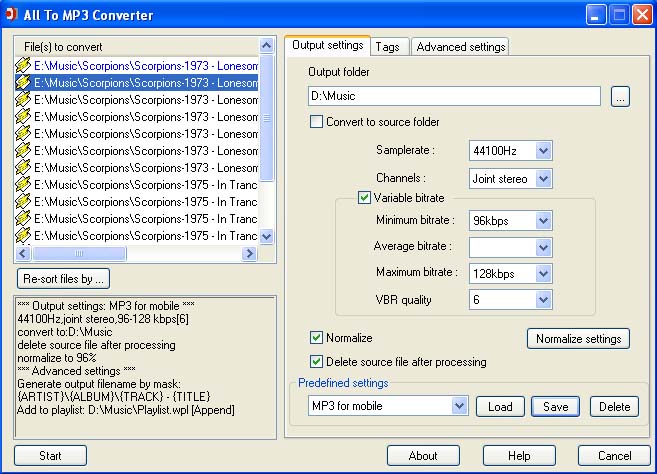 Controls in this dialog are divided into three groups:
File list. In this list you may see the files you nave chosen for conversion. It is possible to delete the files from this list with the help of the context menu, by right mouse click on the list, or with the help of Del button on the keyboard. You may also sort out the files by pressing the button Resort files by ...

Next field below the file list.Here the settings which were chosen for conversion are shown in brief. All the changes in settings are represented immediately in this text field.

Tab control, with the help of which you may change the settings. All the settings are divided into, three groups: Output settings, Tags, Advanced settings.
Press Start button to start conversion. At any time during the conversion you may stop the process using Stop button. In this case all successfully converted files will be removed from files list.

Note: If the file in the list is represented in blue color, it means that the generation of the output filename by tags is enabled and one or several tags which are used for generation are undefined for this file.

Note:If the file in the list is represented in red color, it means that there was a mistake during the conversion of this file.