Convert WMA to MP3 with the help of All To MP3 Converter
Do you want to convert files in WMA format to the format which is more supported, like MP3?
This step-by-step tutorial will show you how to convert WMA files to MP3 easily and quickly. By following this instruction you will convert all of your WMA tracks to MP3 format in a couple of seconds.
Update 1 July 2018: This app is no longer supported and it doesn't work on Windows 10. This guide is also quite outdated, for more recent version please navigate here: How to convert WMA to MP3.
---
Install All to MP3 Converter
To convert WMA files to MP3 you need to download All To MP3 Converter first. Then run downloaded installation package and follow the instructions.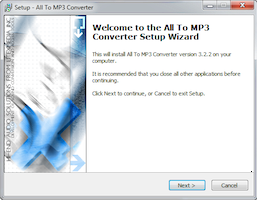 Locate WMA files
Now you are ready to convert WMA to MP3. Locate WMA files which you want to convert in Windows Explorer.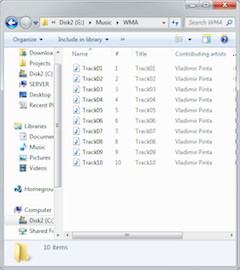 Adding files
Right click on selected files. The context menu will appear. Select Convert to MP3 there.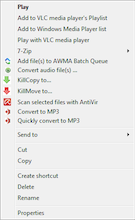 All To MP3 Converter will be opened and selected files will be added to the queue.
To add more WMA files for conversion repeat this step.
Select output folder
When all files for conversion are added to the batch list you need to select folder where converted MP3 files will be placed.
Select MP3 settings
Also you can change settings for MP3 format (like bitrate, channels, samplerate).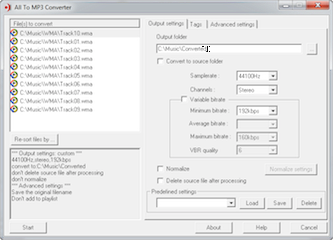 Start conversion
When all settings are specified press the Start button.
Conversion process will be started.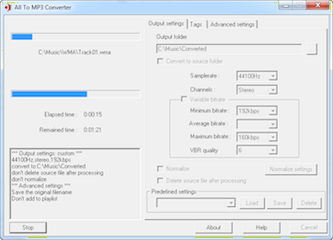 Converting
Wait while conversion is in progress. When all files are converted successfully All To MP3 Converter will be closed.
---
If you are ready to convert your WMA file to MP3 download All To MP3 Converter right now!
If you have found it useful for you then you may purchase it from developer's online store. Your registration code will be delivered instantly.